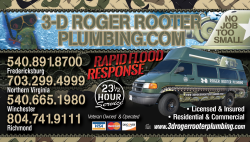 3-D Roger Rooter Plumbing
License:

2705095047

Main Services:

PLUMBING REPAIR, ROOTER & FLOOD RESPONSE

Years In Business:

12

Awards:

Talk of the Town Customer Satisfaction Award 2012

Company Overview:

3-D Roger Rooter Plumbing is serving you with over 25 years experience. We specialize in all service/repair jobs, water heater installations as well as re-piping. 3-D Roger Rooter Plumbing strives on quality and customer satisfaction is always guaranteed. Give us a call today for a FAST response: 703-299-4999,540-891-8700, 804-741-9111 ask for Roger!!!
Reviews By Customers
Review by: D. P.
Work Description: Thought it was plumbing but actually it's an electrical problem. They also fixed a sink that was leaking badly.
Comments: Pricing was fair, not beyond budget.
Review by: T. D.
Work Description: Came out next day! Fixed leak in drain pie and rotted out soffit on roof.
Comments: Very professional! got work done next day that I needed to close on my house.
Review by: B. H.
Work Description: fix water coming from well to the house
Comments: good service
Review by: T. H.
Work Description: Put in a line for our ice maker and installed a new faucet w/sprayer to our sink.
Comments: Contractor was scheduled to be here at 9am...when he wasn't here at 9:45 I had to call and see if we were still on. He told me he was running late. I would have appreciated a phone call to say he was running behind - the customer shouldn't be the one iniitiating that type of phone call. that's our primary complaint. outside of that, they did a great job & we appreciated the service.
Review by: D. H.
Work Description: Replaced gas heater switch on 75 gallon water tank.
Comments: Friendly and efficient
Review by: L. T.
Work Description: Replaced sumppump.
Comments: Roger was very professional and repalced the sumpump very quickly.
Review by: Alicia J.
Work Description: replace the guts of the tank. and the valve.
Comments: They was very helpful, and got the job do and quickly, and very efficiently and work with me, as far as there payment goes. I am so please that my I am able to use my toilet and was a very fair price. Thank You so much to them they are great and I recommend that any one needs a plumber, call them now.
Review by: Mike N.
Work Description: Opened the main drainage. Nice deal maker. I am looking to hire him again to change the main due to roots in the pipe.
Review by: J. D.
Work Description: two leaking toilets and one dripping faucet.
Comments: The first thing one wanted to do was use my bathroom and immediately the 2nd man also had to use the bathroom. They should have done this before getting here. They couldn't fix my sink and suggested I buy a new one to install (mine is only 4 yrs old). One toilet was leaking the second day and I called R J Tilley who sent a man who fixed it all including the sink in less than 15 minutes and charged me $75.00. I would not recommend this firm to anyone.
Review by: C. D.
Review by: J. W.
Work Description: Icemaker was not making ice. Line was frozen. Galvanized pipe removed and copper pipe installed.
Comments: More than satisfied with the workmanship. Plumber was respectful and knowledgeable. A thorough explanation was given of all work performed. Thank you for this service. I'll surely use it again if needed.
Review by: G. F.
Work Description: ran a water line from the meter to my house.Water line split .I had very little water.When he arrived i had no water Thank you
Comments: Great price was the lowest out five bids.Did a great job and was here when he said he would be. Thank You