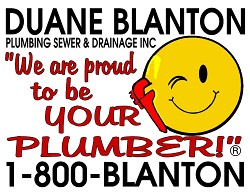 Duane Blanton Plumbing, Sewer & Drainage, Inc.
License:

055040059

Main Services:

Plumbing and Drain Cleaning

Years In Business:

26

Company Overview:

At Duane Blanton Plumbing, we want you to have the same peace of mind that our parents had when they called their local plumber for service. Growing up, we had a family doctor, a family lawyer and a family plumber. When a need arose, there was no hesitation on who to call; trust had been built. We believe in the Golden Rule; treat others as you would want to be treated. We want your family to be assured and comfortable knowing you have an honest and dependable plumber—we would be proud to be YOUR plumber!"

-Duane and Madeline Blanton, owners
Reviews By Customers
Review by: Brad M.
Work Description: Duane has done everything for me, from unclogging a toilet to installing a water heater.
Comments: I have been very satisfied with all his employees, the work he has done, and the price that was given. I would definitely recommend him to other people.