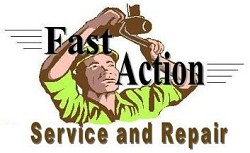 Fast Action Service & Repair
License:

PL 2108393

Company Overview:

Fast Action Service & Repair is a full service Residential Plumbing Company covering all of the Chicago Area. With over 10 years of experience, our company is able to address your complete plumbing needs in the most professional and efficient manner possible. We specialize in: leak detection and investigation, maintenance, repair and installation of all your plumbing fixtures, Frozen Pipes, Water Heaters, Re-Piping, Remodeling as well as any other plumbing needs you may have. We can also do the plumbing in your new kitchen or bath addition.
If it has anything to do with plumbing, WE DO IT! We pride ourselves on our prompt and courteous service. Contact us today at Fast Action Service and Repair and see how WE CAN, WE CARE AND WE REPAIR!
Reviews By Customers
Review by: Charmaine &.
Work Description: Replace a kitchen faucet
Comments: Do I love this guy. For years we have been looking for a good plumber and thanks to this service we found a great one! We got super fast service, professionalism and a very reasonable price. A competitor was going to charge $600 for the same job outrageous ! I will sing his praise and recommend him to everyone I know that is looking for a great plumber.
Review by: Billy M.
Work Description: Remove 4" cast Iron toliet,90 and stool collar-install new p.v.c. stool collar,90 and T-repair leak in tub waste.$400.00
Comments: the other were asking for $820.00
Review by: C. P.
Work Description: replaced bathroom faucet
Comments: good performance
Review by: C. C.
Work Description: Derrick Hatton suggested a solution to the problem that had not been brought up before.
Comments: Derrick was personable and called and showed up when he said he would. He was efficient. I would recommend him to others in our condo bldg. and plan to put up a notice in the mailroom to that effect.
Review by: J. S.
Work Description: Installation of a battery back up system for a sump pump
Review by: Tim H.
Work Description: Clogged bathtub drain and leaking kitchen sink.
Comments: Very prompt and fast service as well as reasonably priced. A competitor was going to charge over $300 more for just the clogged drain. Highly recommended.