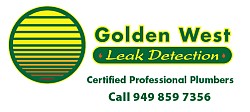 Golden West Leak Detection & Plumbing
License:

963597

Main Services:

Plumbing and Leak Detection

Years In Business:

12

Company Overview:

WE ARE A FULL SERVICE PLUMBING COMPANY
Serving all of Orange County, CA!

Professional Leak Detection Experts for over Ten Years.

We have been providing immediate relief from leaks in homes and businesses in Orange County, California. We are trained professionals who are certified in leak detection. Not only can we find leaks where they are hidden from view, and often go undetected, but we also repair them immediately using only the best materials to make sure you never have to worry about a leak again.

NEED A COUPON? Visit our site for more Coupons.
http://goldenwestleakdetection.com/coupons/

Services Offered:

• Full Service Plumbing!
• Leaks Detected & Repaired
• Slab Leaks
• Drain Cleaning & Unclogging
• Sewer Lines - Installed and Repaired
• Showers, Tubs & Sinks
• Toilets & Faucets
• Water Heaters – Standard
• Water Heaters – Tankless
• Water Lines Installed & Repaired
• Pipe Replacements & Repairs
• Water Pressure Problems
• Emergency Plumbing!

We are Certified Installers of PEX, which is the best material on the market. We take pride in our craftsmanship and our fast service. We have a proven record of quality and reliability that you can count on.



Reviews By Customers
Review by: Candice C.
Work Description: A water flood from an unknown source. A Leak detection was performed and then a re-routing of the leaking line.
Comments: I came home from work on a Friday night and found my house flooded. I called my insurance who then tried to contact their own plumbing vendor to come right away. It took 3 hours for them to arrive. When they finally got there they tried to find the leak. After opening a bunch of holes in my new pho painted walls he threw his hands up and said he couldn't find the pipes that was leaking. I requested a different plumber for the next day. Who was 2 hours late and looked like he just woke up. He made more holes this time to my stucco outside in the patio. After 10 cigarette breaks and another hole under the water heater he said he need to get to another appointment and would call me back. He then referred a restoration company and left. Shorty after the insurance companies restoration vendor showed up. They went right to setting up really noisy equipment that looked really beat up. On the third day with water turned off the office of the plumbing company called, after waiting half the day expecting them to show up, a really nasty woman stated they had overbooked themselves and couldn't come until tomorrow but couldn't give exact time. At that point I told them to forget it. My neighbor came by and said I should call Golden West Leak Detection. When I called I spoke with a very friendly and helpful young man who after hearing my story said all his plumbers were booked in the field but offered to come himself. 30 minutes later John showed up. He patiently listen to my whole story and even took the time to hear something's that I didn't realize had nothing to do with the problem. He took even more to explain what he believed was the problem and how he would go about determining where the leak. 25 minutes later he had the leak capped and had diagnosed to line that was leaking. He got all my information and said he would speak to my insurance. He also pointed out that the restoration company set up there equipment in a way that would take a very long time to dry and showed me how it should be done to speed up getting those awful things out of my house. Before the end of the day he called back and said everything was approved and he would have his plumbers arrive in the morning. At that point I realized he was the owner which I also notice that it said as much on the card he gave me. The next day Chris and Jeff showed up right on time. The move items around carefully and protected everything with plastic. A few hours later the plumbing job was finished and looked great. They also fixed a few things that were wasting water and not working correctly. And they did it to be nice and didn't charge me. I was absolutely thrill and I went from coming close to losing my mind to higher spirits. I felt like I couldn't thank them enough. When the restoration vendor came back to check equipment I asked how much longer the drying would take and they said another three days. i asked them to then make a few of the changes to the positioning of the drying equipment as John suggested. they gave me a line or two but when I challenged them with the points John had made and they regretfully reposition everything, which took just a minute and left. Low and behold the next day they when they came back everything was dry and they removed the equipment. I can't thank the whole Crew over at Golden West!!!!! They were life savers. Not only did it seem as if they cared about me and a My predicament they also were clearly good at their jobs and took it very seriously. I hope I don't have to use them again but if I'm ever in need they will be my very first call! Thank you Golden West!!!
Review by: Ryan .
Work Description: I am a general contractor and they handle all my general plumbing needs.
Comments: Golden West Leak Detection & Plumbing are a great company. They are very punctual and do great work.