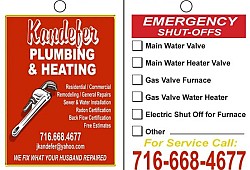 Kandefer Plumbing & Heating, Inc.
License:

Buffalo 137

Main Services:

Full Service Plumbing Services for Residential and Commercial Customers – From Sewer to Remodeling

Years In Business:

67

Company Overview:

Kandefer Plumbing & Heating, Inc. is a family-owned-and-operated company. This statement can mean different things to different people. Let us tell you what that statement means to us: Not only are we family-owned-and-operated, the company name is our name. When we provide services for you, we are attaching our personal name to that service. We therefore give special attention to each job: Our name is on it. When we say family, we mean family. Our employees are part of that family. We have the best mechanics available. They are honest, hard-working and always strive to give you the service you deserve. Each technician is either in training to reach his or her certification or is already licensed and is continuing his education. There is no such thing as an over-trained mechanic. Our company is just the right size. We are small enough to know your name, but large enough to handle any problem you have. Our company is growing, but at our pace: We keep track of who we are and where we came from. Kandefer Plumbing & Heating is licensed and insured for your peace of mind. Kandefer Plumbing & Heating, Inc. installs all materials and equipment to the manufacturers' specifications and we have our work inspected when code requires. "We fix what your husband repairs!"
Reviews By Customers
Review by: T. O.
Work Description: Snaked the mail line going out of my house underground
Comments: The tech didn't complete the job on Friday (thought he did but didn't snake all the way through) - and by Monday the drain ran slow again. He called me at 7:30 AM on Monday and was here within 30 minutes to do it again - so that was a GREAT thing. But could have done it once versus twice if he had the persistence to snake the whole drain for my money rather than just try to clean out the clog.