Drainboard Kitchen Sink: Is One Right for You?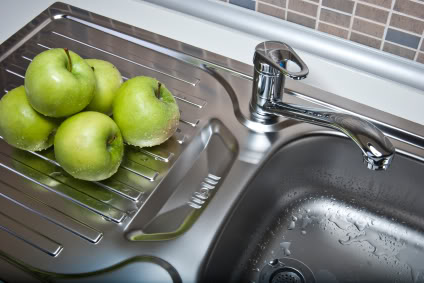 In the days before dishwashers, homemakers fashioned their own drainboards for drying dishes by spreading a kitchen towel on the countertop and placing wet dishes on the towel. Another option was to purchase a dish drying rack and place it in the second sink or on the countertop and hope the water made it to the sink before damaging the countertop.
Uses and Advantages
Dishwashers changed the way most of us wash dishes, but not in all cases. Even though dishwashing appliances are in most homes, it is better to wash some delicate items by hand. Drainboard kitchen sinks are ideal if you have many delicate items that need to be hand washed. The smooth or ribbed sloped surface of the drainboard channels water directly into the sink. Drainboard sinks come in all of the materials that sinks come in, including stainless steel and Corian.
Not only is the drainboard an ideal place for drying your hand-washables such as crystal wine glasses, plastic containers, pots and pans, a drainboard is also the perfect place to set a hot pan. If you have ever struggled with draining water off spaghetti with no safe place to rest the heavy pot, you know the value of an integrated and hardy drainboard.
A drainboard kitchen sink is also a convenient place to put a cutting board for food preparation. Peelings and refuse can easily be pushed from the drainboard into the garbage disposal. If young children or inexperienced assistants help with food preparation, a drainboard kitchen sink is the place for your helper to be. You will worry less about your helper damaging an expensive countertop if his enthusiastic efforts result in wayward slices with a sharp knife.
Disadvantage
The disadvantage of a drainboard kitchen sink is that the drainboard will take away some of the usual countertop space. Also, if the drainboard is ribbed, the grooves will need to be carefully cleaned with a toothbrush or other soft-bristled brush. This is especially necessary after cleaning or preparing meats such as poultry or pork.
If you are planning to purchase a new sink, consider a drainboard kitchen sink, particularly if you have many items that cannot be washed in the dishwasher. Because the drainboard is integrated into the sink's design, the two create a seamless look that is attractive and functional.
Author Caryn Colgan is a home improvement expert, writer and photographer based in Colorado. Ever wanted to ask a property owner how to care for a property? You can ask Caryn - she's an expert.
Get Free Quotes - Have a plumber install your new sink
Fill in your details and be contacted within minutes
Some of our Cities: