Kitchen Sink Types: A Comparison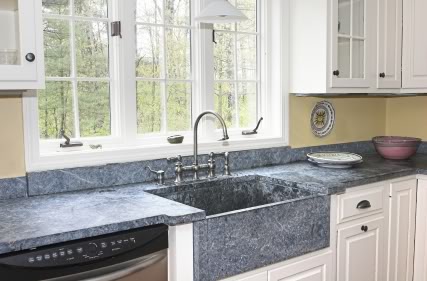 Kitchen sinks are no longer merely functional items. Depending on the kitchen sink type you choose, your sink can be a feature that gives your kitchen a custom look. From mounting types to number of bowls to materials, explore this kitchen sink type comparison.
Mounting Styles
There are two basic mounting options: top-mount and undermount. Top-mount is the most common mounting for most kitchen sink types. With top-mount sinks, a flange or lip extends wider than the opening in the countertop. The disadvantage to this type of mounting is that crumbs and water can accumulate along the seam.
Undermount kitchen sink types are mounted under the countertop. Since there is no lip, crumbs and water are seamlessly wiped into the sink.
Number of Bowls
Kitchen sinks can come with 1 to 3 bowls. One-bowl styles can be basic or apron front. Apron front or farm (farmhouse) sinks work well in Victorian and country-style homes. The sink material becomes part of the cabinet facing and sometimes accommodates a towel bar. As an example, a stainless steel, single-bowl apron front kitchen sink at Apron Front Sinks will cost over $2,350.
By far, the most common choice for number of bowls for kitchen sinks is 2: one bowl for washing and the other for rinsing, or one bowl for dishes and the other for food preparation.
Three-bowl options can be found in commercial and gourmet kitchens. If homeowners host frequent parties or hire caterers often, a 3-bowl sink may be considered. The extra sink enables multiple people access to the sink for food preparation and cleanup.
Material
Limited only by a homeowner's imagination, kitchen bowls can be made of materials from porcelain and fine fireclay to metals such as stainless steel and copper, glass, natural stone, manufactured stone and concrete.
For example, a 2-bowl, fine fireclay undermount sink at Elkay will cost between $1,500 and $1,875. A similar copper sink will cost about $2,400 while stainless steel will cost around $1,900.
Undermount glass bowls are available in around 20 colors, at least, and can cost around $850 each.
Manufactured stone and cement can be formed to create a single unit with the kitchen sink as an integral part of the countertop. The advantage to this type of sink is that there are no seams that may eventually require maintenance as an undermount and top-mount might need.
With so many kitchen sink types available, you can choose a style that not only enhances your home's décor, but lasts for years to come. Whether your taste is trendy or classic, there are sink materials and styles to dress up your kitchen.
Author Caryn Colgan is a home improvement expert, writer and photographer based in Colorado. Ever wanted to ask a property owner how to care for a property? You can ask Caryn - she's an expert.
Get Free Quotes - Hire a plumber to hook up your kitchen sink
Fill in your details and be contacted within minutes
Some of our Cities: